Wednesday, August 23, 2006 Holidays and Happy Dances

Well, we are all back safe and sound from our camping trip. It was the first one ever with the boys and they were great. We had a blast.

I must put this forth because it was a moment to note for a romance writer. At the campsite I was coming down from the showers and there was an old model, shiny baby blue, VW Beetle. Standing next to it was a young hunk wearing nothing but low riding blue jeans. Yowza! Karen, you would have loved his back. With the early morning sun coming down just so and his hair a little longer and all golden highlights...oh yeah, GOOD MORNING!

But even better than that, I come home to a contract in my email for my FULL LENGTH NOVEL!!!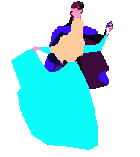 This ms was turned down my Harlequin mainly because the premis didn't fit their line (and also just before the Temptation line folded) so I rallied with it a bit and sent it to
The Wild Rose Press
who loved it. Because it will be put out as a Single Title it will be available not only in ebook but also in
PRINT
. OMG I'm going to be able to hold my very own book in my hands!!
Wow, and we are going to the Canadian National Exibition (CNE) tomorrow in Toronto so I barely have time to breath from one event to the next LOL.
Don't forget to check below to see who won this week's episode of
ESCAPE the Mondayn
!
------------------------------------------------------
Posted by Stacy Dawn :: 4:45 PM :: 22 comments


---------------oOo---------------